The Truck Driver Training Program is a 240 contact hour, six week, non-credit program that prepares individuals for employment as professional truck drivers. This short-term training program is designed to prepare students to enter the truck driving industry.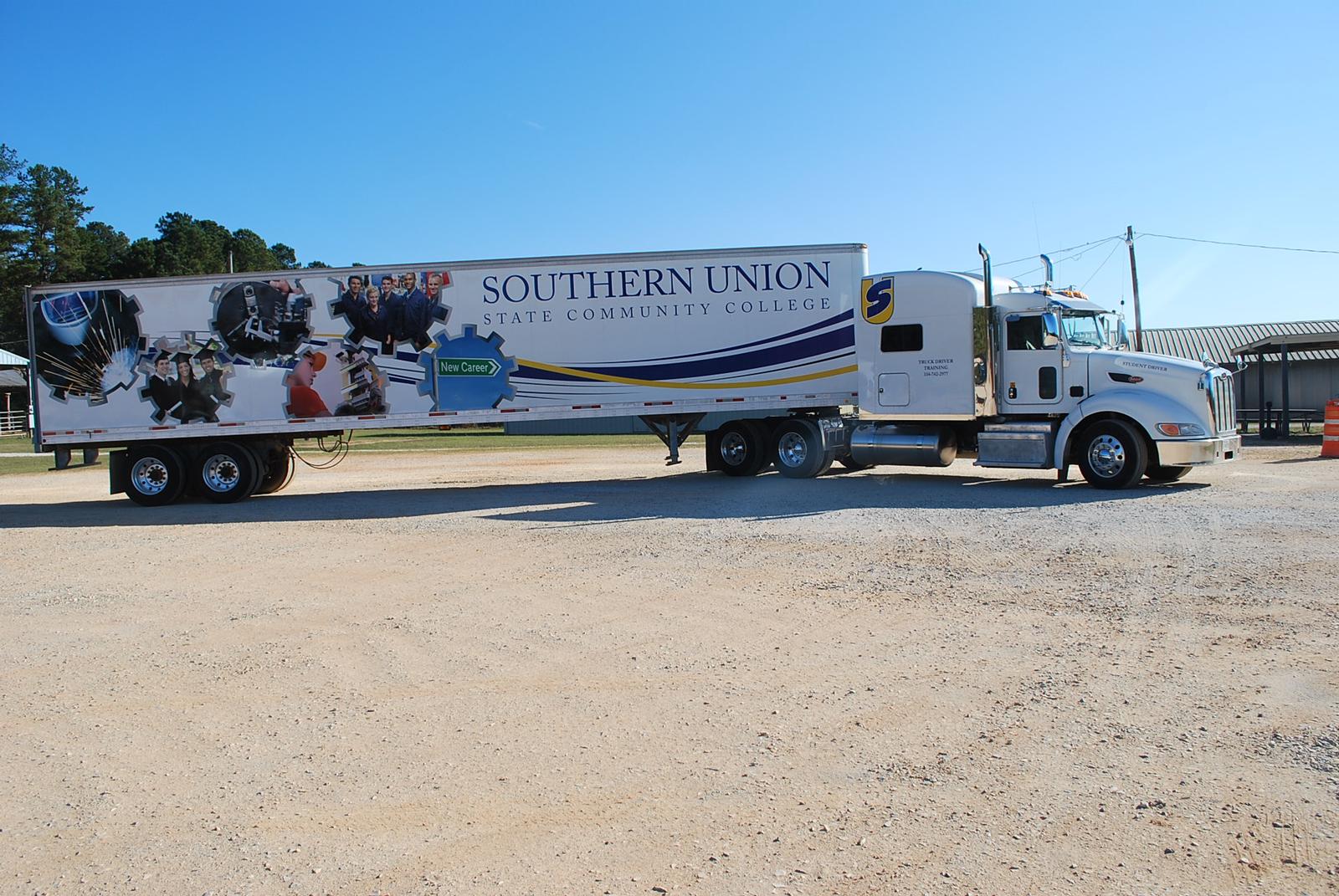 The program content includes instruction in operating diesel powered tractor-trailer rigs, identifying common vehicle components, defensive driving skills, actual driving on rural, urban and interstate highways, handling cargo, backing and maneuvering tractor-trailers, documentation and verification of loads and hours of service, and the performance of vehicle inspections.
The basic goals of the truck driver training program include:
Personal safety (during training activities);
Learning how to drive safely (avoiding accidents);
Learning how to drive legally (how to comply with Motor Carrier laws and regulations);
Learning how to drive efficiently (how to get maximum fuel mileage and avoid excess wear and tear on vehicle parts);
Preparation for the Alabama CDL skills test (pre-trip, basic control, road test); and
Preparation for the workplace (employment in the field).
Admission Requirements: Students applying to the Truck Driver Training Program must be at least 21 years old and have passed a Department of Transportation physical and drug screen, as well as submit a motor vehicle report (MVR) from the Alabama Department of Public Safety. Drug screen and MVR must be dated within 30 days of the first scheduled class day. Applicants must also have successfully completed the written test administered by the Alabama Department of Public Safety in the areas of: General Knowledge, Combination Vehicle, and Air Brakes and hold an Alabama Commercial Driver's License Learner's Permit (Class A). It is also recommended, but not required, that prior to the completion of the program, students obtain Tankers, Doubles and Triples, as well as Hazardous Materials endorsements.
Job Placement Assistance: Recruiters from various trucking companies visit classes to provide information regarding their companies and offer applications to students. The instructors will also provide assistance with the application process.
Refresher Training: For those individuals who have obtained their CDL (and license is still active), but need to freshen up on their driving skills, refresher training classes are available - 40-hour option or 80-hour option. These classes are arranged and scheduled by the instructor. If interested, please call (334) 742-2977.
Contact:
Justin Hatch
Tractor-Trailer Truck Driving Instructor
Phone: (334) 745-6437 ext. 5493
Email: jhatch@suscc.edu
Kevin Bauer
Tractor-Trailer Truck Driving Instructor
Phone (334) 745-6437 ext. 5566
Email: kbauer@suscc.edu